Welcome!
Featured Item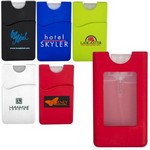 Silicone Wallet Sleeve w/Sanitizer - 0.6...
PP Plastic credit card-sized 0.67 oz. (20 Ml) antibacterial hand sanitizer spray in removable silicone sleeve with pocket for credit cards, transit cards and business cards. Features light citrus scen...
$2.35 - $2.99
What Our Customers Are Saying

Over the last eight or nine years, Donna at Gecko Promotions has provided me with high quality, low cost, unique trade show promotions that have strongly enhanced our branding efforts. Without except...
Dale Kivi
FutureNet
Dec 09, 2008